Red Day 2018 - An Attitude of Gratitude
Red Day 2018:
Keller Williams Realty, as a whole, puts an enormous emphasis on culture. In our office, we have dedicated a committee to focus on that culture within our walls and amongst the community that we serve. Elissa Withrow, of The Withrow Group, is the head of the culture committee here at Keller Williams Louisville East and with that committee, organized the 2018 Red Day.
Red Day is an annual day of service, established by Keller Williams International, which they have dubbed the 2nd Thursday in May. The R - E - D in Red Day stands for Renew, Energize, and Donate. It's about seeing a need in our communities, discovering who can meet the need, and getting it done. We like to refer to it as "Give where you live"! The effect that companies can have if they work together for the greater good of everyone is extraordinary.
Because of a historically large attendance rate, Keller Williams Louisville East and our culture committee arranged, for the first time ever, 2 locations for us to serve at this year: The West End School and YouthBuild Louisville. We are happy to report that we covered a lot of ground in the time that we spent at both locations and while we will blog about both organizations, we will opt to do so in a two part format as to give each organization the true attention that it deserves. Today, we would like to share our experience at the West End School.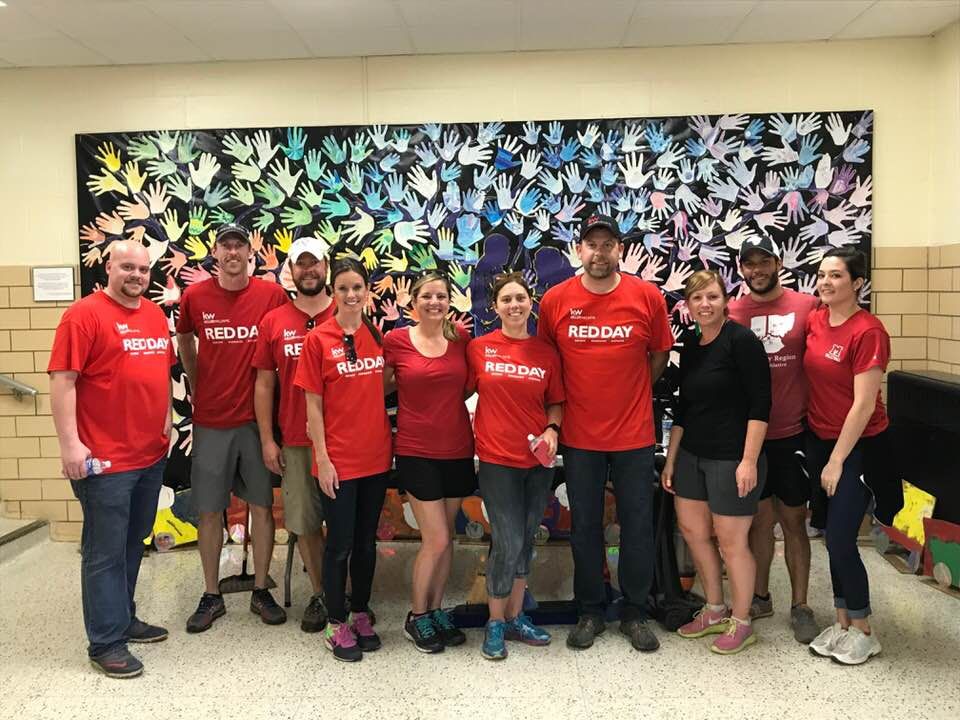 Our Experience:
"The West End School is a free, private, college preparatory school" that serves our young men entering Pre-K all the way up through eighth grade. To enroll you must be a student entering Pre-K through Sixth grade, on free or reduced school lunch, are capable of doing academic work at grade level or above, and would benefit from a safe environment with high expectations.
This past Red Day at the West End School, our mission was to clean up the campus and prepare the auditorium for their graduation ceremony. It was a fun day full of hard work. We spent time outdoors mulching the grounds and really beautifying the playground, gazebo, and picnic table areas. Our indoors crew worked on deep cleaning the entry ways and stairwells leading into auditorium and the stage so that it was looking spiffy and shiny for the graduation.
It is SO easy to lose touch with the dire needs that exist in our very own community, especially when we go from home, to work, back home, and live our routine lives in the same few places each day. The reality is that we don't have to look far or perform some miraculous task to create a true difference and a positive impact on these amazing young men and their families who are right up the street from us.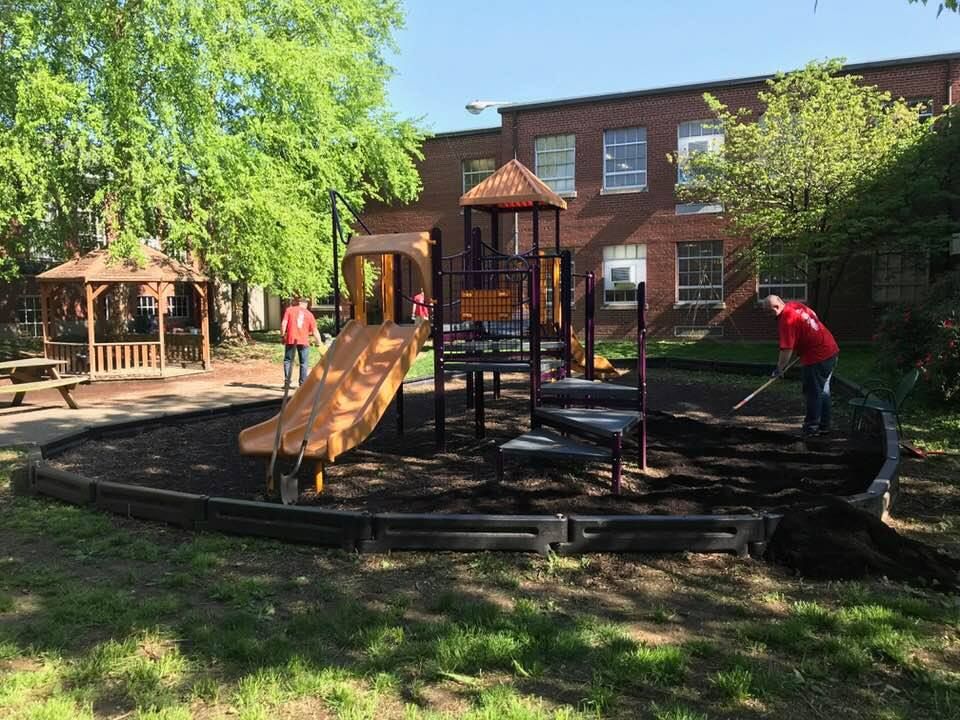 A little bit about the West End School:
Although now under new leadership as of the beginning of the 2017 academic year, the West End School was originally co-founded in 2005 by Robert Blair, who served as the original, and sole head of the school until his recent retirement. Kelley Wright Henrion has now taken over Robert's position, and was selected to do so because of her extensive experience founding and leading college prep schools comparable to West End School.
Robert Blair and his wife, Deborah realized a need for alternative educational programs, and more specifically felt called to create a solution that would benefit young men on a local level. They believe that serving young men through their elementary and middle school years (a "transitional tipping point" in their lives) would be most beneficial. By creating, and encouraging an environment in which high-expectations for their students are set, the progress seen is as "remarkable". The students at their school have been offered over $2 million in scholarships.
The West End School is an incredible organization with a pure cause. Their focus on encouraging students to attain the highest possible level of scholarship, character, and intellectual growth is one that everyone can get behind. Those goals are similar to what we should want for our own family and selves. Remarkably, while the students can live on campus, their model is really centered on strengthening the students family unit rather than supplementing that unit. They recognize that the West End School fulfills a need that the family is struggling to meet. Simultenously, the West End School empowers and involves them as much as they can in the daily lives and responsibilities of the student so that the family doesn't lose touch. WES gets behind these families while they simultaneously better the well being of the young men that they impact.
Keller Williams Louisville East has worked with the West End School on multiple occasions, and we appreciate each one of those opportunities to serve our community on that level. If you are looking for a great organization like this to become involved in, consider WES. Here are 3 ways that you can help: 1) They are reliant on DONATIONS. They have a very specific list of items that they are in need of, should you be interested in donating. They also accept monetary donations. 2) The West End School is also reliant on VOLUNTEERS. They especially need people to come help serve lunch to the students. 3) Like any young men, they need MALE MENTORS. A lot of these young men come from situations where male mentors are absent. If you see a gap that you can fill with the West End School, we would encourage you to do so. No one ever regrets time spent giving back. You can find out more at their website: www.westendschool.org, or you can contact them at [email protected].
Additionally, here is a link to a list of items that can you can donate:
https://www.westendschool.org/wish-list.html
Or you can order straight from their Amazon Wish List here:
https://www.amazon.com/gp/registry/wishlist/20HP1MZRL55G7/ref=cm_sw_su_w
Some fun photos from Red Day!